Yoast has long been one of the most popular WordPress SEO plugins and has been the go to WordPress SEO plugin for years – earning Yoast more than 5 million active installs. Historically, if you are looking for an SEO plugin, the question has been Yoast vs All in One SEO. Rank Math is a new player in this space and are giving Yoast a run for their money by packing features into the free plugin that Yoast reserves for their paid apps. The question is now Yoast vs Rank Math.
Both are great SEO plugins for WordPress that cover all the basics but we'll dive into the Yoast vs Rank Math debate to help you figure out which one is best.
Summary: Yoast vs Rank Math
While Rank Math SEO for WordPress is a newcomer, it is worth considering. The table below provides an overview of the features in Rank Math vs Yoast. As evident, both have "core" functionality like updating your meta data, editing robots.txt and .htaccess, creating XML sitemaps, and verifying Google Search Console. What separates Rank Math from Yoast are the premium features. Over the years Yoast dialed back some of the functionality in their free plugin (like the ability to create redirects) and moved it to their premium plugin (currently priced at $89/yr). Similarly there are many features you'll see in this list that Rank Math gives away for free while Yoast charges for the same functionality in their premium plugin.
TL;DR: Our Pick: Rank Math
Given the abundance of "premium" features that come free in Rank Math, they earn our vote in the Rank Math vs Yoast debate.
| | Yoast SEO | Rank Math SEO |
| --- | --- | --- |
| Post grader tool | Yes | Yes |
| Post grader supports multiple keywords | Premium version | Yes |
| Google snippet preview | Yes | Yes |
| Optimize meta title & meta description | Yes | Yes |
| Bulk edit meta title & meta description | No | Yes |
| Optimize open graph data (facebook, twitter) | Yes | Yes |
| Change canonical tags | Yes | Yes |
| Update meta robots (noindex, noarchive, etc) | Yes | Yes |
| Verify Google Search Console | Yes | Yes |
| Verify Bing Webmaster Tools | Yes | Yes |
| Google Search Console analyzer | No | In progress |
| Breadcrumb support | Yes | Yes |
| Edit Robots.txt | Yes | Yes |
| Edit .htaccess | Yes | Yes |
| Create XML sitemaps | Yes | Yes |
| Create news XML sitemaps | Paid module | Yes |
| Create video XML sitemaps | Paid module | Yes |
| Create redirets | Premium version | Yes |
| Automatic redirects when post names change | Premium version | Yes |
| Monitors for 404 pages | No | Yes |
| Supported Schemas (structured data) | 4 | 16 |
| Internal linking suggestions | Premium version | Yes |
| WooCommerce support | Premium version | Yes |
| Automatically redirect attachment URLs | Yes | Yes |
Features – Yoast vs Rank Math
The table above provides a high level summary of the key differences in features. While many are straightforward, such as editing the meta title or canonical tag, we'll dive into some of the features that are key differentiators for Yoast and Rank Math.
Yoast Meta Editor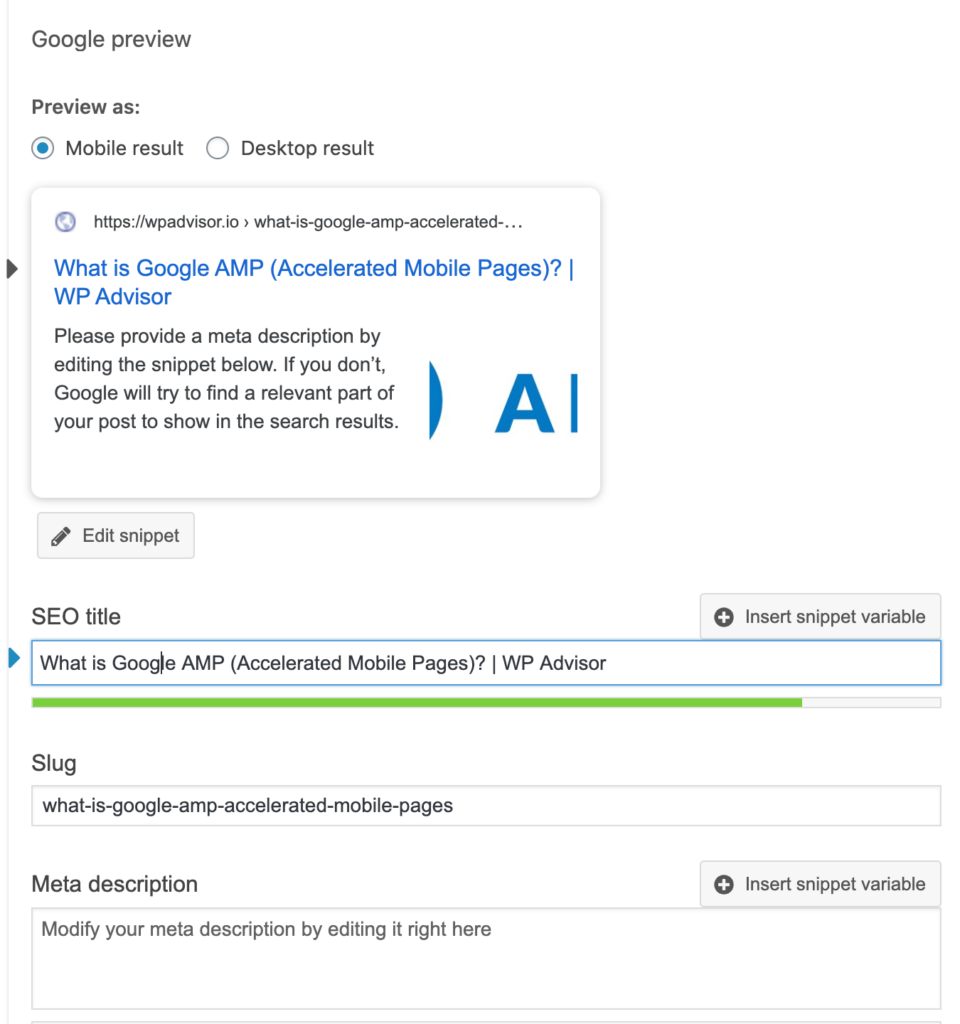 Rank Math Meta Editor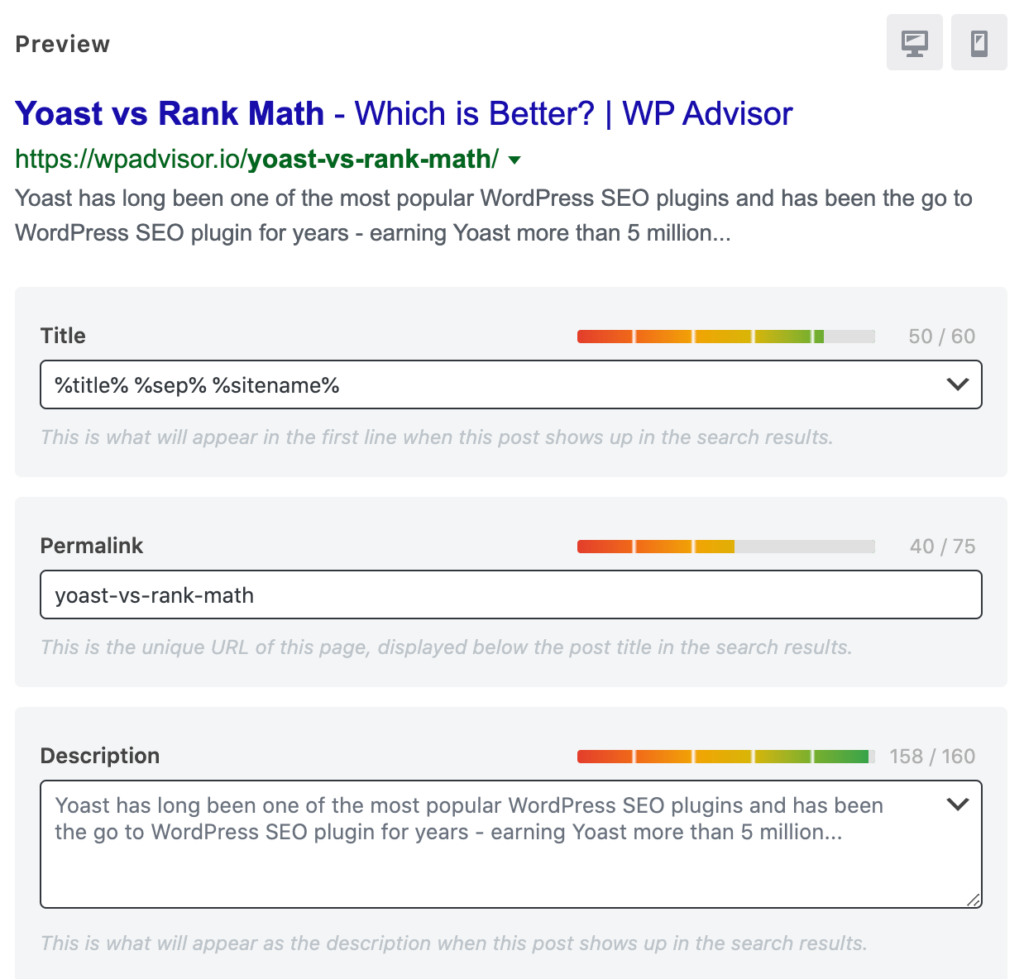 Features: Redirects
While we respect a business' right to choose where features fall in a freemium software model, redirects are a core component of SEO (and usability!). We feel like this should not be an addon feature – further, people who have used Yoast since the early days will likely remember that redirects were initially part of the free Yoast SEO plugin, but were later migrated to the premium version.
Redirects in Rank Math are a straight forward process:
Enter the URL(s) that you'd like to redirect
Specify your destination URL (where the user, and Google, should end up)
Choose the type of redirect (301, 302, etc)
Save your redirect ("add redirection")!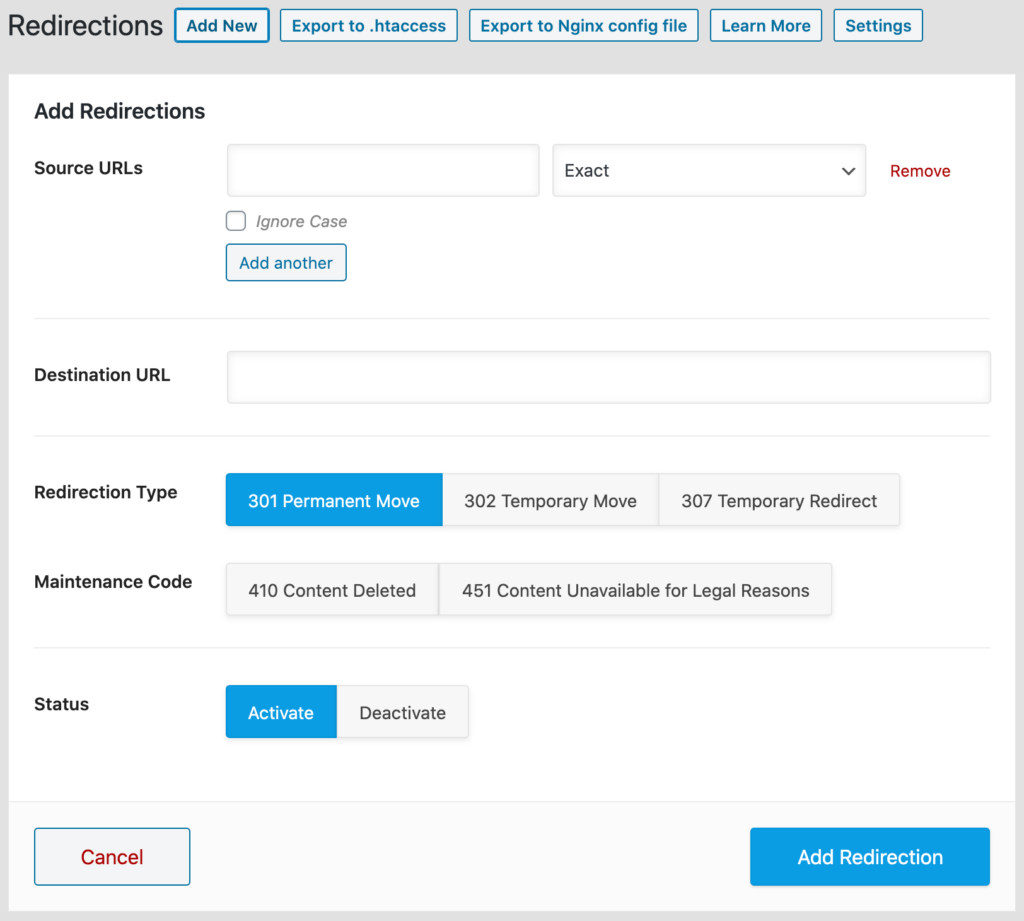 That's it, it's a straightforward process. It would be nice to bulk upload redirects, but this functionality does not exist – potentially this could exist in a future premium version of Rank Math.
Features: Monitor for 404 Pages
Another handy feature tipping the scales towards Rank Math is their 404 monitoring feature. There is a "404 Monitor" section of Rank Math which will look for pages on your site that are getting hits but return a 404 error. This helps easily identify pages which need to be fixed to help both your SEO and your user experience. Currently, Yoast doesn't have anything like this in their plugin.

Features: XML sitemaps
XML sitemaps are a standard component for a WordPress SEO plugin – and in the Yoast vs Rank Math battle, both of these plugins meet that baseline criteria. You can create a basic XML sitemap with either plugin. Where it gets interesting is the more "advanced" XML sitemaps such as News XML sitemaps or video XML sitemaps. While Rank Math natively supports creating these types of XML sitemaps, you must buy an addon for each news and video sitemaps if you'd like to have these on your site
Features: Supported schemas
As with the other features we're covering here in the Rank Math vs Yoast debate, this point goes to Rank Math – While Yoast covers some of the basic schemas, Rank Math offers significantly more. That said, if structured data is important to you, the odds are good you'll want to use different schemas than are available through either plugin.
For those serious about structured data, we recommend checking out structured data specific plugins like:
| Schema | Yoast SEO | Rank Math SEO |
| --- | --- | --- |
| How to | Yes | Yes |
| FAQ | Yes | Yes |
| Breadcrumb | Yes | Yes |
| Article | Yes | Yes |
| Book | No | Yes |
| Course | No | Yes |
| Event | No | Yes |
| Job Posting | No | Yes |
| Music | No | Yes |
| Person | No | Yes |
| Product | Paid module | Yes |
| Recipe | No | Yes |
| Restaurant | Paid module | Yes |
| Service | No | Yes |
| Software Application | No | Yes |
| Local business | Paid module | No |
Features: WooCommerce support
The final feature we'll look at is WooCommerce support. As WooCommerce is the most popular eCommerce plugin for WordPress, many people will benefit from optimizing product detail and category pages to improve their SEO performance. As with all the other features we've touched on, Rank Math supports WooCommerce in their free plugin while Yoast requires a paid addon to support optimizing WooCommerce.
Usability – Yoast vs Rank Math
While both plugins offer the same basic functionality with different levels of features and advanced functionality, each plugin takes a different approach to the user interface. Yoast puts their module below he most (as they have always done) while Rank Math is tucked into the top menu bar and feels like a more native experience for those using Gutenberg. Neither is better or worse, this is purely personal preference.
Yoast Module Below the Post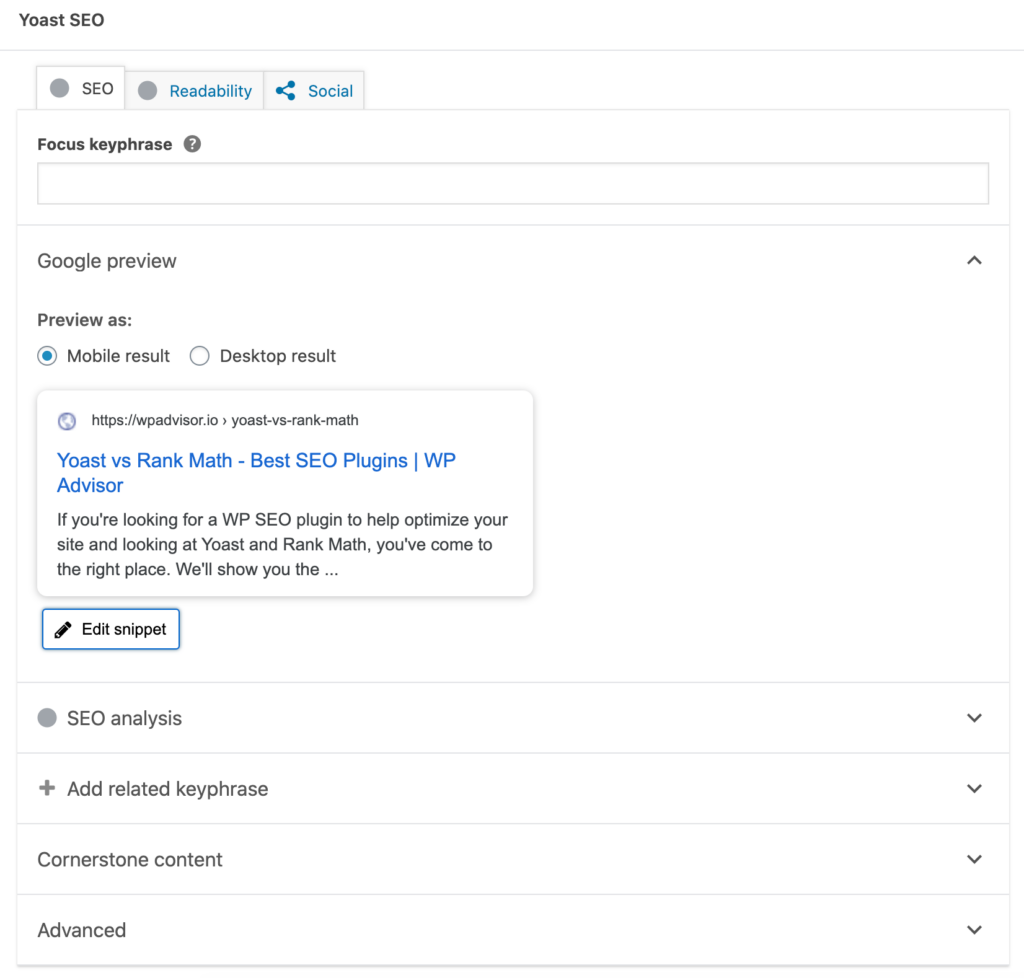 Rank Math Sidebar Module